Reflective, Highly Visible and Durable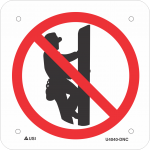 Uticom's new reflective, "Do Not Climb" pole tag is designed to provide a clear indication when a pole is unsafe to climb. Traditional pole tags often fade or break easily. Uticom uses road sign printing technology to create a tag that will remain legible for 25-30 years.
Contact graphics@uticom.net or your local representative to obtain samples and additional information.