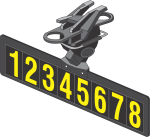 On numerous occasions, power lines are indistinguishable during the night time or hazardous conditions. Thus, making it difficult for them to be seen by pilots or unmanned aircraft.
Uticom Systems, Inc. offers a highly-visible, durable and cost effective way to identify line circuits. Our 8-position, polycarbonate line markers are ideal for areas, such as: construction/ indsutrial sites, marinas, airports, crop dusting, etc.
Our U2817YBHI-T series digits allow the markers to be exceedingly visible at all times of the day. Furnished with a high-strength clamping mechanism, the markers can be easily installed using one of our horizontal hot sticks, and will withstand high winds.