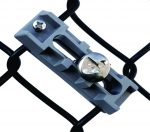 Uticom Systems, Inc. introduces a safe, secure and efficient way to mount signs to standard chain link fencing.
The Anti-Theft Brackets are manufactured from Nylon 6/6 and feature all stainless steel hardware. The lock-on feature allows for secure and safe installation to the fence. The Anti-Theft 5/16" bolt can be tightened using a standard flat-head screw driver, but requires special tooling for removal.
Brackets come in packages of 10, or boxes of 100 and 500. Uticom also offers Anti-Theft Brackets for additional posts, poles and fence types.